In 2021 Australia joined the large group of countries which conduct a regular survey of the hearing aid market.
The EuroTrak survey collects data from countries across Europe on 'self-reported hearing loss' (SRHL), hearing aid use, hearing aid satisfaction, daily hearing aid use time, and the benefits of hearing aid use, as well as reasons for non-use. It has been conducted online for The European Hearing Instrument Manufacturers Association (EHIMA) since 2009 and was inspired by the US MarkeTrak survey, which began in 1989. In 2022, MarkeTrak1 used a questionnaire with the same core set of questions and a comparable reporting format to EuroTrak for the first time, enabling stronger comparisons across the different markets.
The report looks at some of the major findings in AustraliaTrak 2021 and put them in perspective with data from major markets including the USA (MarkeTrak 20221), France, Germany and Great Britain. One of the great features of the Trak surveys is that the core set of questions has been stable since its inception in 2009. This makes it easy to compare results from different countries as well as over time for countries that conduct regular surveys.
AustraliaTrak 2021 was designed and executed by Anovum in Zürich, Switzerland on behalf of the Hearing Care Industry Association (HCIA) and EHIMA. A total of 14,670 people participated and 1,325 people with SRHL were identified, of which 685 were hearing aid owners. No audiometric testing was done in AustraliaTrak or in any other Trak survey; those who answer yes to the question, "Are you experiencing hearing difficulty?" are classified as persons with 'self-reported hearing loss' (SRHL). In Australia the percentage of respondents with SRHL is 11.8%. This is greater than the prevalence of 'disabling hearing loss', estimated by WHO to be 6.8%, and less than the estimated prevalence of 'not normal hearing', which is >16%. Recently, it has been suggested that self-reported hearing loss is a useful measure for identifying the group of people who are candidates for hearing aid fitting2. Self-reported hearing loss is between 8.8% and 12.5% for countries in Western Europe and the USA, placing the finding of 11.8% for Australia at the higher end of the range.
Hearing Aid Adoption Rates
One of the key results in all Trak surveys is the hearing aid adoption rate. This is the percentage of people with SRHL who state that they own one or two hearing aids. In AustraliaTrak the adoption rate is 44.7%, which is a
high value compared to many other comparable countries. Figure 1 shows the adoption rates in the last two years for a range of EuroTrak countries and
the USA in 2022.
The adoption rate for Australia is at the same level as France and the Netherlands and a little higher than Germany. MarkeTrak 20221 data for the USA explains that the adoption rate value of 38.4% is for hearing aids regardless of how they were acquired and fitted. Hearing aids that were fitted either at a clinic or remotely accounted for 35.7%, with the remaining 2.7% being self-fitted devices. This survey also included questions about the use of personal sound amplifier products (PSAPs), which are over-the-counter devices similar in design and performance to entry-level hearing aids. If the percentage of people who use PSAPs is included in the US data, the total adoption rate increases to 41.6%, which is still lower than Australia. The UK and Denmark have adoption rates above 50%, which may reflect the fact that both countries have a social security system where any person with a hearing loss can get a fully-subsidised device. Belgium and Italy on the other hand have either very limited or no public funding for hearing aids and lower adoption rates.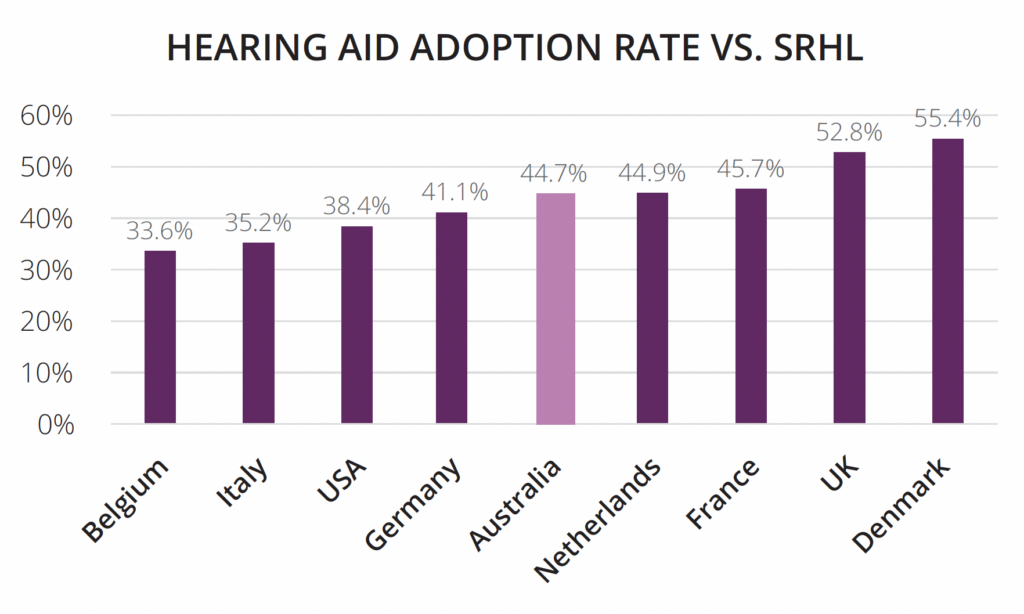 Reprinted with permission of Audiology Australia – for full report see: How Does Australia Compare to other heading aid markets?